The Active School Flag (ASF) is awarded to schools that strive to achieve a physically educated and physically active school community. Togher N.S. was awarded The Active School Flag in 2014 and we are currently in the process of renewing it.  Our goal is that all members of the school community work together to promote the importance and benefits of physical activity as part of daily life. Our Active School team is comprised of pupils,  parents and staff, and we also have a bank of parent volunteers to call on for help with various activities on an ongoing basis. To learn more about the Active School Flag Initiative, visit their website   –  http://www.activeschoolflag.ie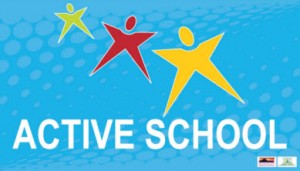 At Togher N.S. we
Provide all pupils with appropriate PE provision and ensure the school PE plan is comprehensive and inclusive.
The P.E. curriculum provides children with learning opportunities through the medium of movement and contributes to their overall development by helping them to lead full, active and healthy lives. There are six strands in the P.E. curriculum-
• Athletics
• Dance
• Gymnastics
• Games
• Outdoor and adventure activities
• Aquatics
Teachers cover each of the above six strands over the school year.
We promote physical activity during break times as well as introducing new sports into the school PE timetable.
We provides students with specialised training in various physical activities during the school day such as Golf lessons, Swimming lessons, GAA training, Tag Rugby training, Yoga  and  Cycle Right workshops.
We invite sports clubs, athletes and physical activity providers from the local community to talk to the children or to give taster sessions of their activity and we constantly try to raise awareness of the huge variety of ways in which people can be physically active.
Our Sports Partnerships:
   Sam Maquire underage G.A.A Football and Hurling Club.
    Doheny's G.A.A. Club
Cycle Sense: Cycle Skills and Training
Togher Celtic Football Club
Dunmanway Rugby Football Club
 Cork Sports Partnership