We were absolutely delighted to welcome Dan Noonan to our school on his 85th birthday. Dan attended Togher National School when it first opened at its current location. Dan brought along his sons Don and Peadar. Waiting to greet their Grandad were Connie and Daniel who currently attend the school.
The original Togher National School was built around the time of the famine in 1848. Unfortunately that old school burned down on April 4th 1936 and little or no trace of it can be found today. Research suggests that a sod of turf from the open school fire must have fallen out one evening, when the school was unoccupied, and set the timber floor ablaze. While the new school was being built the children were accommodated in St. James' Church.
Dan recalled that when the new school was completed there was a grand procession from it's temporary home in the church to the new building. This was a different Ireland and the school building was divided into a Boy's side and a Girl's side.  The Boy's side wall plaque is still in place today. The children in the middle and senior classes were enthralled by Dan's account of his school days. Dan was first taught by Mr. Bob Patterson and later by Master McCarthy.  Master McCarthy's daughter Dolly also taught in the school. Dan explained that he walked to and from the school no matter what the weather and used slate, chalk and well worn books for much of his school work. Dan recalled the day the teacher announced the end of World War II saying "Hitler is dead and the war is over".   Teachers would usually travel by bicycle.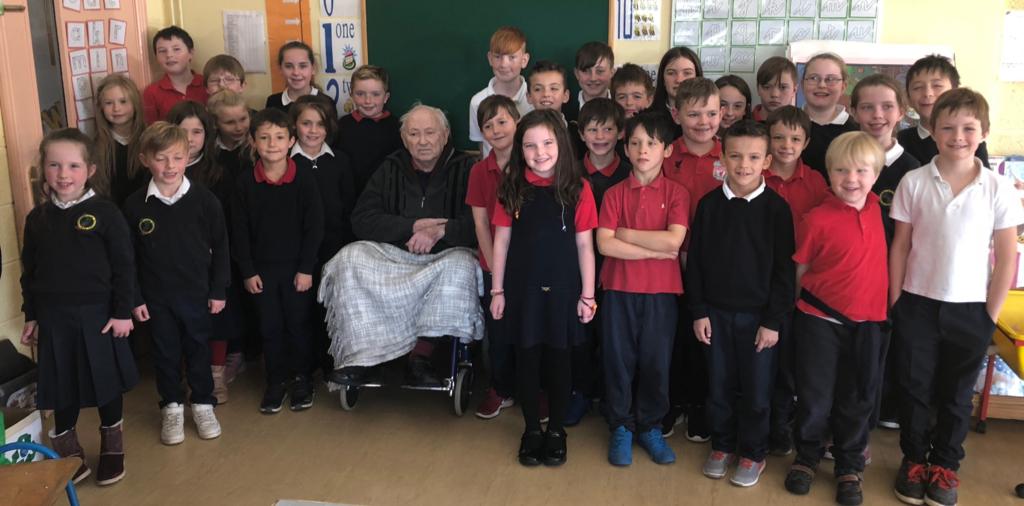 Pupils were taught Irish, English and Maths from 9.30am to 3.00pm. Homework was always difficult as there was much farm work to be done after school.  Physical punishment was common place in those days and all the teachers had a stick for this purpose. Dan explained that whenever they had the opportunity some pupils would make these sticks disappear. This often led to the situation where the pupil that was about to be punished had to go out and choose the stick to be punished with! Most of the pupils left at around 12 years of age. Dan answered the children's many questions and we all enjoyed a slice of delicious birthday cake.